Sunday at 9:04 p.m. (PST), we received a request for help from Central Oregon, where Tyler B. reported to be stranded on a trail near Cascade lakes highway on a Jeep Wrangler with a damaged clutch.
His request read:"I have a Jeep Wrangler unlimited sitting on big spring road right outside of Wanoga snow park. ( we are home now) From my quick diagnosis it looks like I burnt my clutch. I winched the jeep up to the end of Big Spring Road. Jeep runs and everything else function just don't get engagement with clutch when let out. / I'm not with the vehicle".
My vehicle is in an authorized area: YES. Agree with the terms and conditions: YES.
We chatted with him confirmed his contact information and also that he still needed help. We explained to him we don't do towing, we can help him get to a main road where a towing service could take over. We discussed timing and decided to share the request in the morning with daylight to try get the vehicle back.
In the morning I contacted him again: Date: 2022-12-05
(Al, Fontan) Morning Tyler, I'm reading again your request, and trying to make sure, is all you need a tow back home basically? You are not stuck offroad?
Tyler B. / 08:17 a.m. / Good morning Al, if possible a tow all the way home would be amazing. I am stuck on a pretty snow covered dirt road about 1-2 miles off cascade lakes highway right outside of wanoga snow park. I am hoping to get pulled out from the snow road because the car will not drive, the clutch is totally burnt out. It starts fine and everything else works: If you are able to tow me down cascade lakes hwy back to my house that would be unreal. Thanks
(Al, Fontan) We don't offer towing services, but some of volunteers might be able to get you out of the snowed road at least to the main road. You might need a towing service after that. Would that work?
Tyler B. / 08:25 a.m. / That's totally fine. I can get it towed if we can make it back to cascade lakes hwy
(Al, Fontan) ok, just trying to set the correct expectations. I'll start looking for volunteers now. They will contact you directly. Once you are in contact let me know. Did you happen to get a photo of the vehicle yesterday?
Tyler B. / 08:33 a.m. / Sorry for the terrible picture.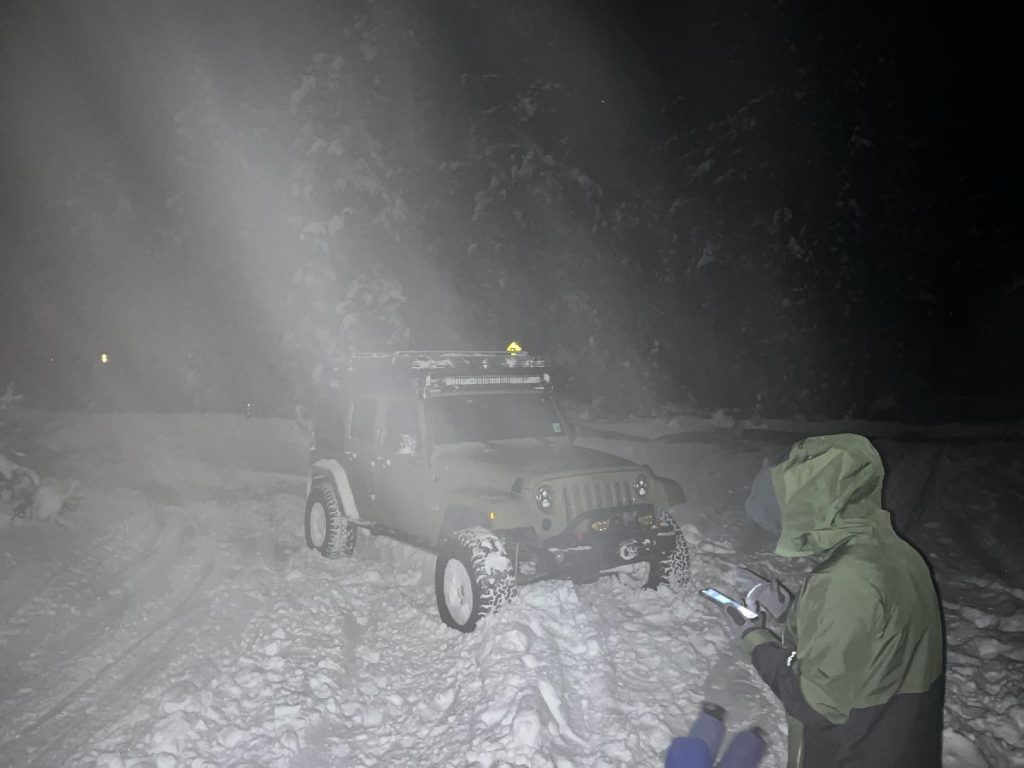 Tyler B. / 08:34 a.m. / I talked with Tyler from bend last night via text and he was going to let me know when he gets off works today as well as let me know if he can help out.
(Al, Fontan) Yeah, Tyler is the other administrator from our system. Ok, I will check with him and see where he is at.
Tyler B. / 08:38 a.m. / Awesome thanks!
(Al, Fontan) ok, I chatted with Tyler, he prefers we tap into our volunteers so you won't have to wait until the afternoon for him. So I'm sending the request now to local volunteers. Again, keep me in the loop if they contact you.
Tyler B. / 08:42 a.m. / Al thanks man-much appreciated. I will let you know if anyone reaches outs
---
We submitted the request to volunteers, and we had Tyler Lefebre offering to help in the afternoon. We continue to look for somebody sooner, and then we received a question from Casey Ladelle:"Isn't that a closed road for the season?".
I checked on the maps and it shows the road as opened. Casey stated:"I just verified, that is a absolutely a closed road and is now a snowmobile trail until April 1st. No two ways about it. This recovery is a no go without forest service approval."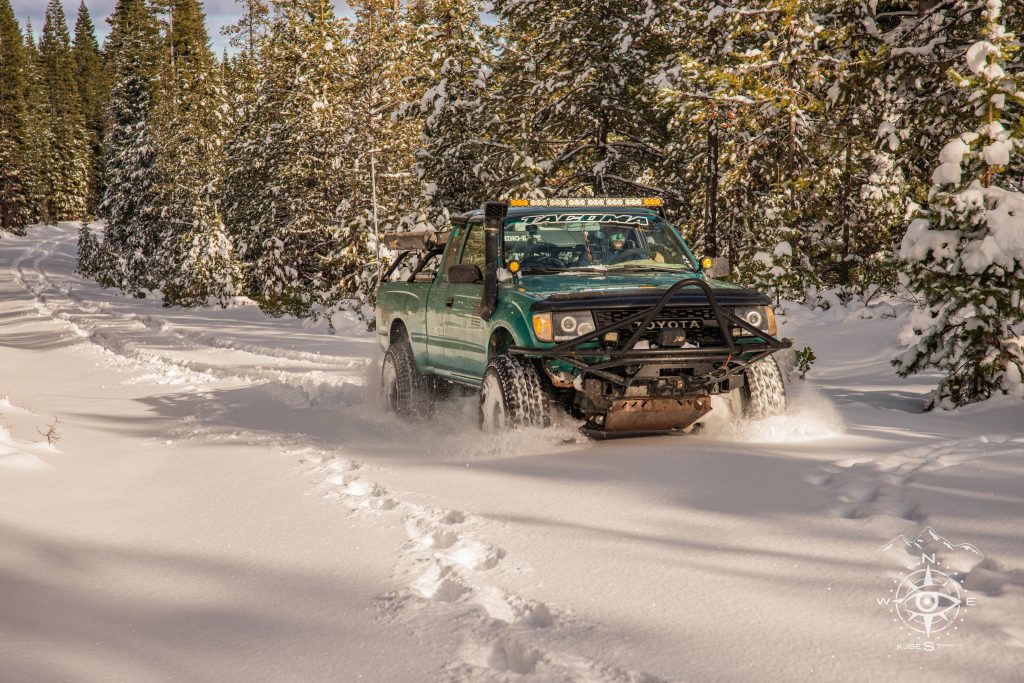 I called the Deschutes National Forest Supervisor's Office and spoke with a woman, Mary Ane, who checked on the map right away and stated the road was opened from Cascade Lakes byway. By then we had RJ and Kanan joining efforts in this recovery. Kanan had a broken rig but was going to ride with RJ to help.
When they go there and entered they found a closed road sign. Kanan immediately contacted us back, and we called again the Forest Service office. This time when I spoke with the same woman and explained the road had a sign stating the closure she pass the phone to another person, a law enforcement officer named Mark B., while talking to him, he explained those roads as Casey stated, were closed. He told us to go ahead and help this vehicle out since RJ and Kanan were already in the area.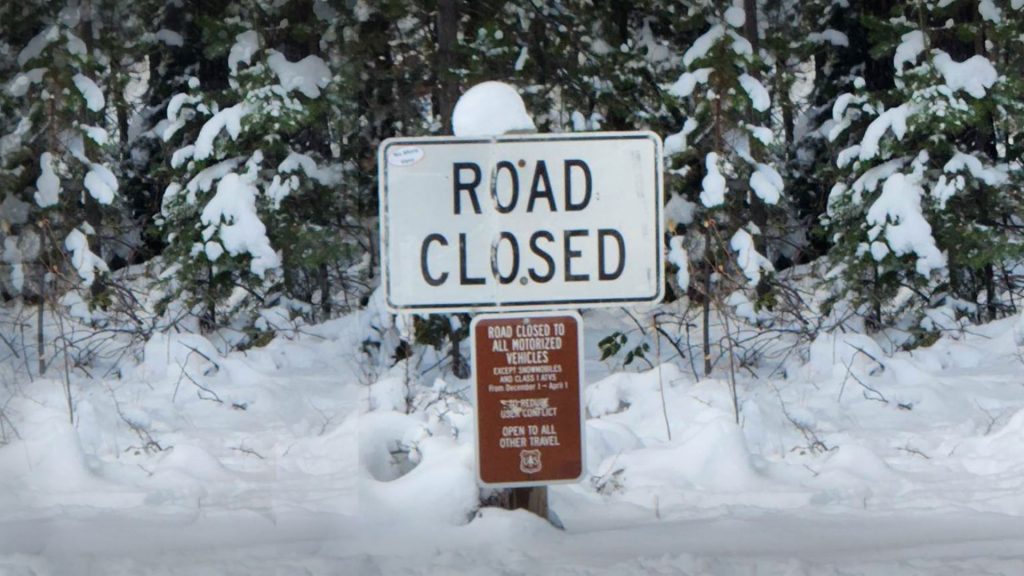 Kanan and RJ after our conversation continued all the way down to where the Jeep was stranded. But since the vehicle had a damaged clutch and it was stuck down hill Kanan couldn't get him out. He informed us, the owner requested a snowcat and he left the area.
Finally the next day Casey was assigned to this recovery and he got the vehicle out while a local sheriff's deputy waited for them to all get out…
We thank Kanan, RJ and Casey for helping on this. And hope people read this article and learn to avoid closed roads…
---
When requesting help in our system, "Is your vehicle in an authorized area?" is the first question anybody submitting a request has to answer. PLEASE make sure you understand we can't enter closed roads without contacting the authorities the same way we won't enter a private property without the owner's authorization.
---
REMINDER: 821.192 Operating all-terrain vehicle in violation of posted restrictions. (1) A person commits the offense of operating an all-terrain vehicle in violation of posted restrictions if the person operates an all-terrain vehicle on public lands at a time when the lands are closed to all-terrain vehicles or operation of the vehicles is otherwise restricted, and notice of the restrictions has been posted by an agency with jurisdiction to impose the restrictions.
The offense described in this section, operating an all-terrain vehicle in violation of posted restrictions, is a Class B traffic violation ($ 270.00) or more depending on the jurisdiction.