by Jeff Zurschmeide / Pamplin Media
With 470 horsepower, the V8 version of the Wrangler is the muscle car of Jeeps.
The Jeep Wrangler is an American icon, tracing its history back to the simple Jeeps that carried U.S. forces to victory in World War II. The surprising thing is that the modern Jeep still has much in common with the ultra-spartan idea on which it's based, and at the same time it's a completely modern vehicle with every comfort we've come to expect.
In the modern era, the Wrangler first gained an available second set of doors, and the four-door Wrangler fast became the best-seller of the breed. Jeep also came out with the current Rubicon off-road feature set, which makes the new Wrangler the most capable go-anywhere vehicle in the world.
With all that, what was left to do to make the Wrangler a standout vehicle? The answer was, "let's put a huge V8 Hemi engine under the hood." So that's what they did — a 6.4-liter engine that is roughly 392 cubic inches.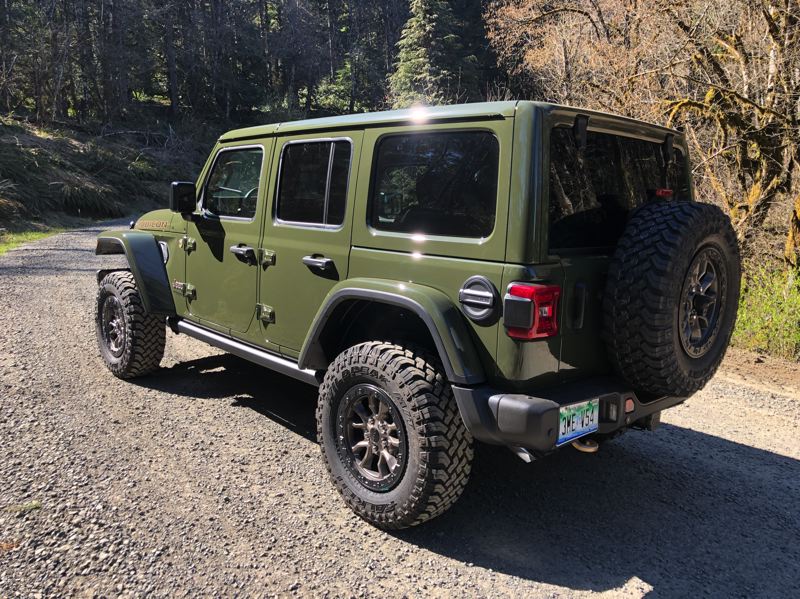 The Wrangler Rubicon 392 is in many ways an ultimate vehicle. Sure, maybe they could have put the supercharged Hellcat V8 in there, and maybe that's still on the drawing board. But for now, the 470 horsepower and 470 pound-feet of torque is all the engine you can get in a Wrangler. That engine is paired with the usual 8-speed automatic transmission and Jeep's best two-speed transfer case for four-wheel-drive. Equipped with this engine package, the Wrangler will hit 60 MPH in just 4.5 seconds.
For off-road use, the Rubicon package includes electronically locking Dana 44 axles, a two-inch lift, heavy duty brakes, FOX performance shock absorbers, beadlock wheels, and electronically disconnecting sway bars. Several cameras help you navigate obstacles without leaving the Jeep, and various skid plates and body protection help to keep the Jeep in as-new condition.
To read the read of this article visit our media partner Pamplin Media.