Friday, May 19th, 2023, at 4:00 PM (PDT), we received a text message in our emergency line (503-877-5263) from California asking for an offroad rescue and recovery, sent by Daniel Pettit from Death Valley, using his inReach satellite communicator.
Because he only had service on his satellite device, we had to coordinate the recovery with the volunteers as an intermediary. InReach, in particular, generates one phone number for each contact, so we couldn't publish the number we had; it only works with our number.
He needed a couple of trucks with winches. He said he gently laid his Tahoe on its side a mile or so East of Barker Ranch. We passed the request to volunteers, and a few minutes later, we had a bunch of volunteers coordinating. By 4:35 PM, Robert Mashburn, one of our volunteers, was heading from Barstow, about three hours away.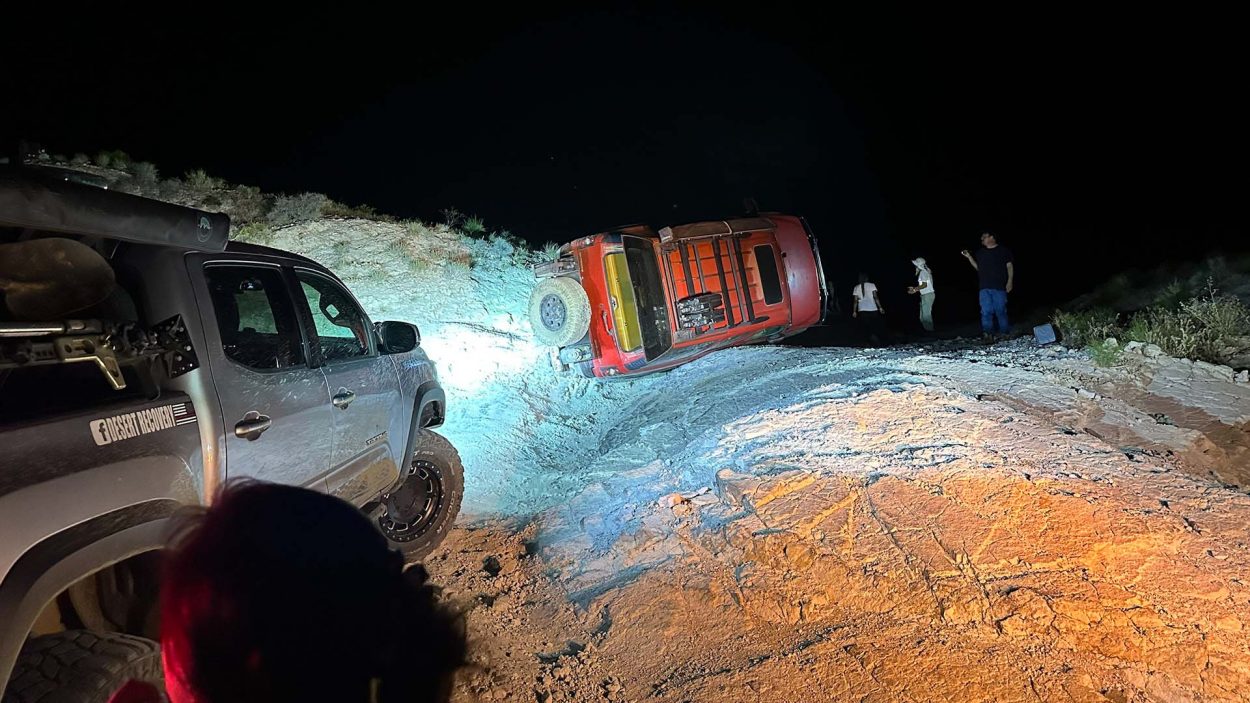 Robert later sent us a quick note: "Once I got the notification I immediately posted the information to the Desert Recovery🇺🇸 page.  Liza Aguirre and I geared up and set off to meet up with Ivan Amerson and his crew. On the way in we quickly became aware that there were numerous thunderstorms in the area. We slowed our pace as we began to encounter rain. Ivan has intimate knowledge about the area and was cautious about leading us up the narrow canyon to the scene. Upon arrival, we immediately came up with a vehicle stabilization and recovery plan. Shortly after we stabilized the vehicle members of SNORR arrived and began assisting with the recovery. The vehicle was gently pulled back onto its wheels and winched up the hill it was on. Figuring it was hydro locked from being on its side we had the driver attempt to start it. When it wouldn't turn over, we pulled the spark plugs and cleared the oil out of the cylinders. The driver was then able to drive the rest of the way up the hill to a semi level spot where we topped off his oil. We said our goodbyes and parted ways. It was a pretty quick recovery and no further damage was done to the vehicle being recovered or any of the recovery rigs. There were no reported injuries either. Death Valley is spectacular at night with thunderstorm activity!  I kept in communication with Eddie Kochera via my Inreach."
---
If you like to receive a text message when we get a request near you, create your account here: offroadportal.org/signup
---
Below are images provided by Ivan and also a video he put together.