Since we started working on our system we focused on just helping people find volunteers across the country to help with recoveries.
But now that we have thousands of volunteers in each state we decided to also integrate "alert messages" for when we receive a request for a missing person or vehicle in off-road areas.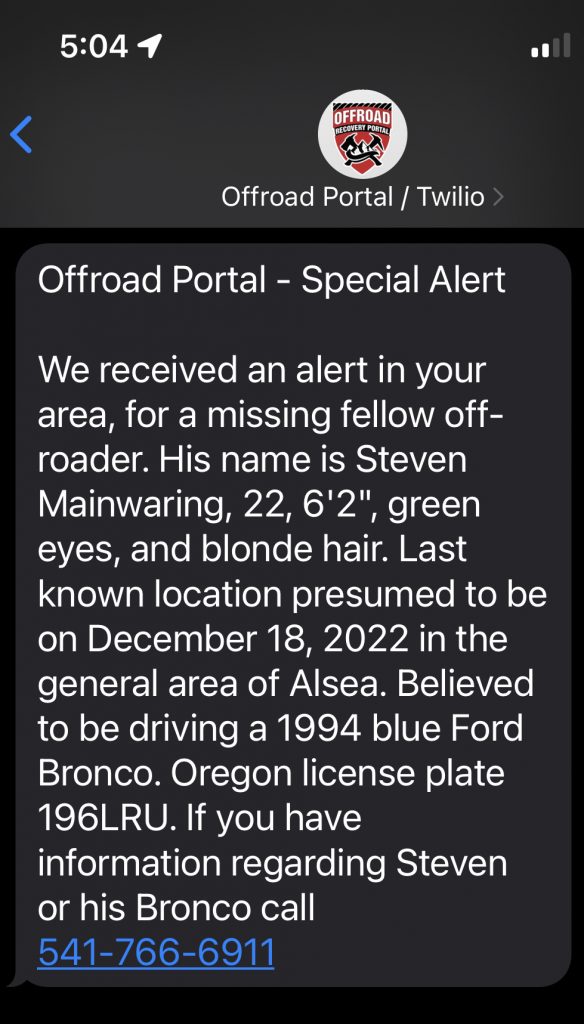 Last night we sent our first message to volunteers around Alsea, OR for a missing person who's last cell phone location was marked in the area.

Since our system can find volunteers by GPS location, we can simply alert by text message those volunteers within a selected distance from the incident.

We hope that more people will signup to receive text messages. This new feature bring us a step closer to the community, and we are happy to start signing up folks who might be willing to receive occasional emergency text messages.
We understand not everybody is capable of performing off-road recoveries, but now you can help just by actively participating with this new feature and if you explore the outdoors help us cover more ground.
Use this link to create your account: signup.offroadportal.org once your account is created, inside the profile page, you can specify if you want the alerts only. Everybody who explores the outdoors is welcome!.