We received a request for help from Colorado where a family had their camper roll into the river. A group of volunteers from Colorado 4×4 Rescue organized the recovery and got them out. They shared the story and details and also a cool video where they show the technique used to pull this out.
From requester: Elizabeth Opal Sutton-Garcia
Vehicle: 1972 dodge sportsman GVW 10,500 lbs. "Our home on wheels was saved by the awesome men and women of Colorado 4×4 Rescue. I'm overjoyed and eternally grateful for their help. The Incident of my camper rolling 6 feet off the road might not seem like the biggest deal to many people, but it was disastrous to my little family. You see I just had a beautiful baby girl 2 weeks ago and was completely unaware that I was pregnant. Our little camper is our home, we travel for work and our business is called Fossick Forgary.
So without our rolling home we had nowhere to bring Baby Ryot Ann back to. Before asking the nice folks at Colorado 4×4 Rescue for help I'd reached out to my mother with an F250 7.3 and a chain, a tow truck From AllensPark CO and also the Colorado Rescue and recovery (who left me on the side of the road with no help or sympathy). None of them were able and some just plain unwilling to help. I went onto a page on Facebook called Longmont helping hands. They suggested I give the people At Colorado 4×4 Rescue a try.
I posted on their page asking for help and within literal minutes min these people who don't know me never met me started asking for information and coordinates and if I still needed help and to keep them updated. I coordinated with them and by late afternoon there were 3 Jeeps with straps and winches pulling my camper. By the dark they'd pulled it all the way out.
One individual spent his 21st birthday celebration day helping us out. Another individual had spent almost all day coordinating and staying in contact with me. I'm literally crying writing because I'm so in awe of these folks coming out from the kindness of their hearts
they asked for nothing and made sure I was safe the entire process. They may never know what it means to me, but God Bless them and I hope to pass on the favor to someone else in need sometime soon. Thank you so much, it meant the world to my little family."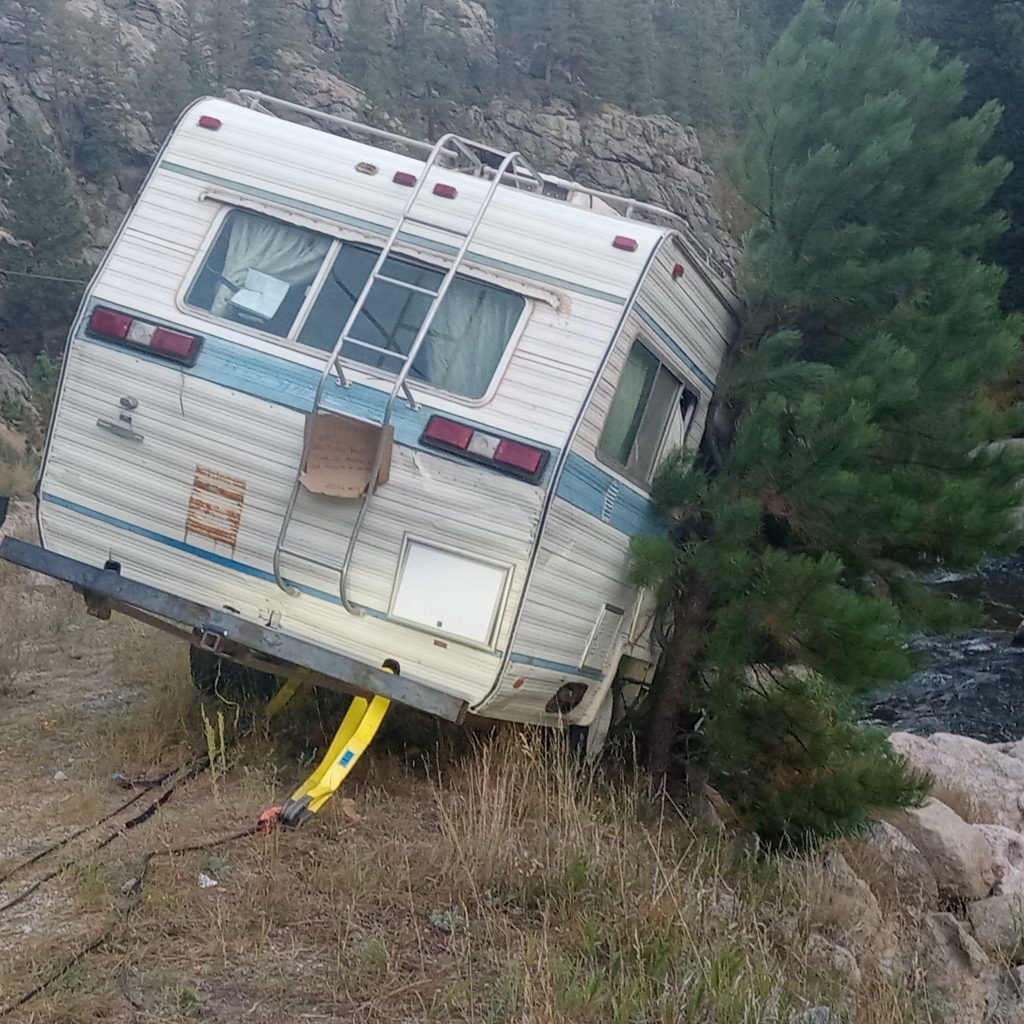 Recovery team: after gathering information from other members who attempted recovery, we coordinated and gathered a group of Jeeps volunteering to aid in a group recovery effort.
All vehicles equipped with winches and various recovery gear threw together a plan and set up to secure the front in a way that would not allow the front of the RV to cause an issue while winching from the rear. With the front secured and a winch on the rear axle and another off the frame and those vehicles secured to anchor points and a spotter below (out of the danger zone) we began the recovery.
As progress was made pauses and adjustments were made to avoid further damage and possible injury. Once the vehicle was out of any further risk, attempts to start the vehicle were fruitless so once we cleared the excess recovery vehicles out a jeep was brought back to pull the RV to a safe resting point where it could get repaired without further risk.
At this point we made sure the requesters were in no further need and all further recovery teams cleared out of the road.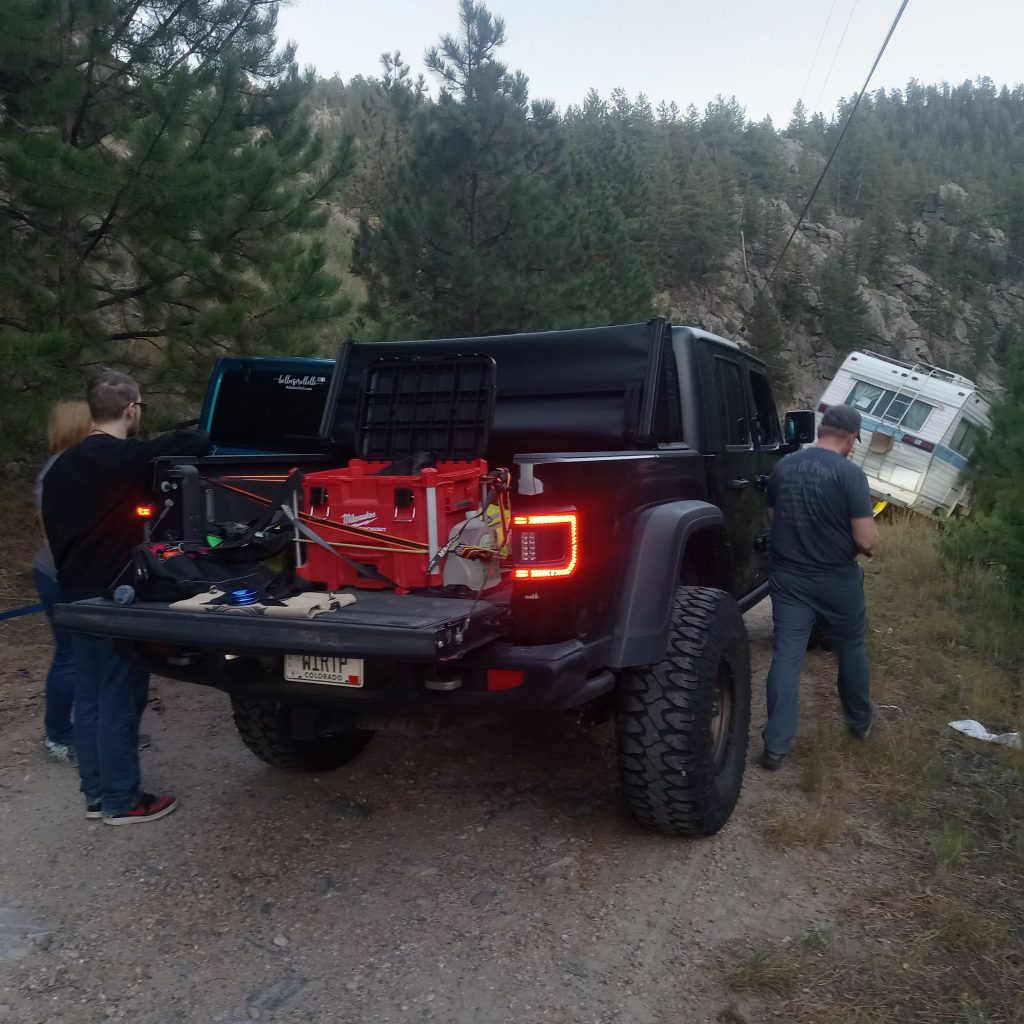 team members involved: [members do wish to be named here] youtube: pepper and mint offroad https://www.youtube.com/c/pepperandmintoffroadJoshua Kayser- first onsite with pictures Garrett Crosier (youtube: Treks on wheels) https://www.youtube.com/channel/UC_cBtRPFiCF-lv2dPai1vLw
Unnamed member was in a white wrangler. reached out for a name and did not get one at time of writing. – Thank you for joining us.