Tuesday, December 27th, 2022, at 2:17 p.m. (PST), we received a request for help from Wasco County, OR. Randell Anderson left his Lexus GX 460 stuck in the snow 8 days before, and had tried to contact towing services to get the vehicle back without any luck.
We contacted him right away and verify the location of the vehicle and asked for a photo. He gave us the GPS coordinates but didn't have any photos. He also explained he wanted to be there when we recover the vehicle to drive it back down. He mentioned he was 74 year old veteran on disability but could still help.
His request info read: "2020 Lexsus GX 460 Stuck in snow, front end is hi-centered. the truck is off 4440 rd in skyline quarry. I have found that the road is also called 1720 road. The snow is about 2 ft deep where is it stuck and the road in is not passable with normal off road vehicles. It's been stuck there since the 19th of Dec. because none of the tow companies will go in there due to the snow. I live in The Dalles, Or. 97058 and made it out there once in my 2017 Tundra but could not get into the quarry. / I'm not with the vehicle".
The first part of this recovery was to verify the road was currently opened. I reached to the Barlow Ranger District and spoke with an officer who explained what was opened and closed. He also put us in contact with John Vogel, grooming chairman of the Columbia Gorge Power Sledders, he spent good time going over the maps trying to figure out how to reach up to the vehicle without hitting any groomed roads, since most of that area was already closed to just snowmobiles.
We figured that coming from The Dalles, using Skyline road, then Brook Meadow, we could get to the vehicle without hitting any closed roads. The vehicle was right in the intersection of what its called the four corners. But it was on the opened side of it, safe for our volunteers to extract.
We prepared the ticket and let Randell know we were actively looking for volunteers. The following morning, Wednesday, after talking to John Vogel, I submitted the ticket just to a handful of people in The Dalles area.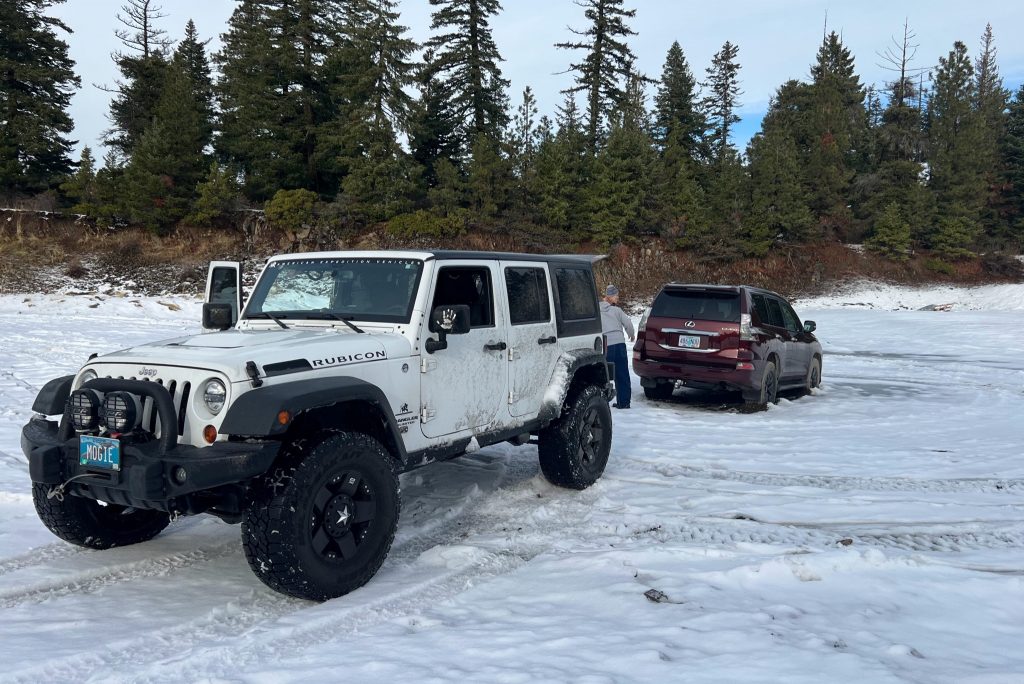 Of the people contacted, two volunteers jumped to offer their help. Steven Minor and Beri Gorsuch. The initial attempt was set up for Thursday but was later moved to Friday.
Beri was the volunteer who finally took care of the recovery. He later shared with us: "Got him out no problem; the rain on the snow helped. Basically, I was a taxi service, but the rig was in good shape for spending several days out there."
Thanks, Beri, for helping with this recovery. We all appreciate your time and efforts.