These are some of the recoveries we received but didn't write a whole article about it.
---
11-05-2022 / 23:04 PM PST – Oregon – Submitted by Charles Berry. He was stuck on mud in the boat ramp by the Prineville Reservoir. Unfortunately we received this request too late for the day and both admins for Oregon were not available to assign. We responded at 4 AM the following morning. We checked with him and he was out already and safe. He managed to get himself out. Good deal!.
---
11-11-2022 / 2:33 PM PST – Montana – Submitted by Mac Brownlow. The request read:"Stuck in snow drift In 2015 Toyota Tundra with chains on all four wheels. I was up hunting for the week and came out to large deep snow drifts on the out run. Road was completely snow blown and not visible. Stuck in drift at night and was able to hike out to hunting partners truck. Back at home currently and headed back out over the next two days to attempt to dig out in the light of day. Greatly appreciate the help. Can probably send photos in the am. / I'm not with the vehicle"
We responded right away and offered to coordinate a recovery. He asked us to wait for the following day with daylight to organize any recovery attempts. The following day we contacted him, and he mentioned he was going to go again by himself and attempt to get it out. We kept the ticket opened until later in the afternoon when he told us he was back home safe and with this truck.
---
11-11-2022 / 2:46 AM PST – North Carolina – Submitted by Chuck Burnett. The request read:"Driving on Fort Bragg training area. Large mud hole with water. Left side of truck sunk up to front and rear number. / I'm with the vehicle".
We contacted him right away and offered help.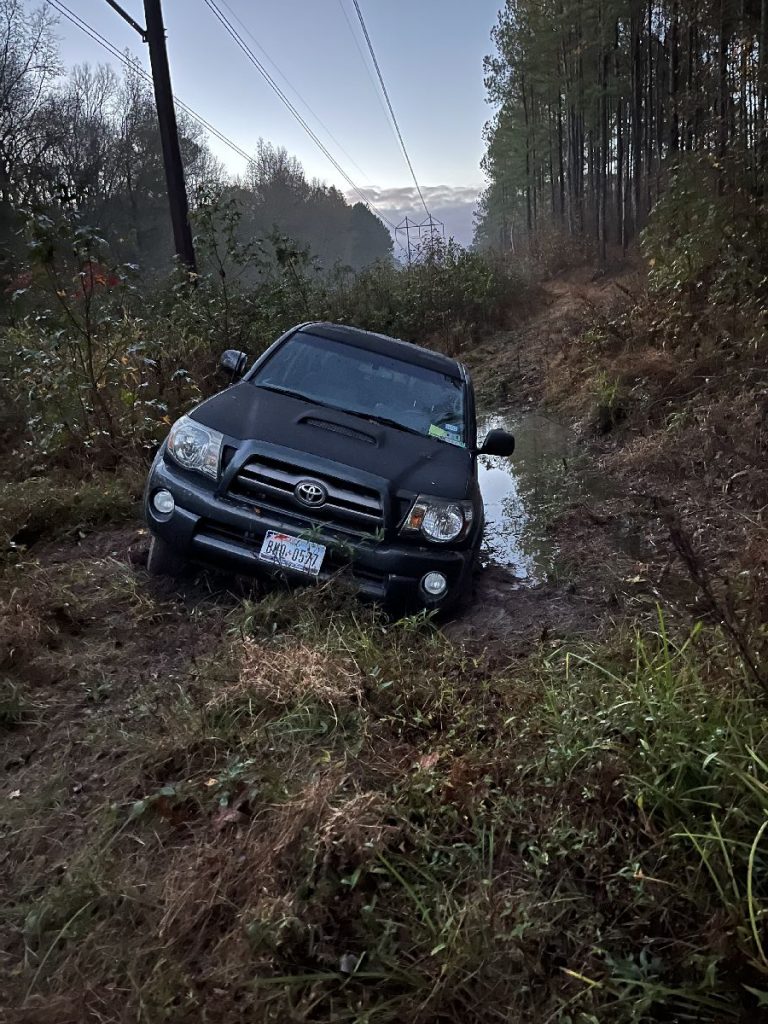 We submitted the request to 15 local volunteers and waited for one hour, but at 7:30 AM in the morning (EST) we didn't find much traction, we had some volunteers available later in the day. He tried contacting a local towing service who got him out. But he was still appreciative of our efforts to find him help. He later contacted us and told us he became a patron member! Thank you Chuck!.
---