Saturday, July 15th, 2023, at 5:33 PM (PDT), we received a request for an offroad recovery of a vehicle in WA. The requester, Joshua Plante submitted the following information: "Mountain loop highway, 97′ 4runner RWD, broken spindle driver side front. WE NEED SOMEBODY WITH A FLAT TRAILER / I'm with the vehicle".
Initially, we contacted Joshua, after verifying the contact information and location of the vehicle, to try find a volunteer with a flat trailer.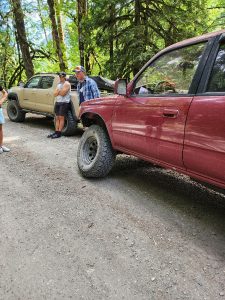 By 9 PM, a local volunteer, Jason Harris, suggested attempting a trail repair, rather than a trail extraction. He took upon himself to look into this and sent this message on our chatroom: "I just checked with Josh Young who runs pnw 4Runner connection up in Marysville and he has CV axles in stock for 50 bucks each. But when I look at the photos of this guy's 4Runner to me it looks like a lower ball joint failure the way that the tire is leaning in. But Josh Young says he thinks it's a spindle that it broke the way the tire is leaning in. So it's very possible CV axle is not the problem here."
By 9:45 PM, Jason sent the following: "I'm talking to him over text. I connected him with Josh Young and based on what Josh says it's the spindle (I also saw this crosss posted to WORN where they confirmed it's spindle, not CV). After talking to josh the requester is wanting to try a trail repair and last resort trailer it based on the warnings headed from josh which is trying to drag it on a trailer with a broken spindle can/will cause more components to break. I will also be attending as a support vehicle even if just morale support. Thanks for the text notification on this recovery, I can't see WORN posts in time because they won't text my Google VOIP phone number lol.".
The following day he finally sent us an update, after closing the request: "The repair is done, it was the spindle/knuckle broke right where the upper ball joint attaches, lower ball joint was fine, this was rear wheel drive only so no CVS. Went to a third gen 4Runner junkyard in Marysville grabbed a used knuckle/spindle, went up on the mountain, and did the trail repair."
He later sent us some notes and photos of the work on the trails. We couldn't be more thankful of volunteers like Jason. He went the extra mile for sure. Awesome job.
From Jason: "The knuckle broke right where the upper ball joint attaches. Lower ball joint was fine, this was rear wheel drive only so no front CV, upper ball joint and upper control arm were fine as well. They're really lucky too  because their steel brake line got smashed pretty good by the failed knuckle, but it was still okay to drive because it wasn't leaking and that caliper still got enough pressure to operate it's brakes.
I went into this with the roll of support / backup. The requester had enough tools between him and his friend to pretty much do everything. They also had the knowledge to do the repair. There were a couple of tools they forgot which I had. Trying to attempt the repair  without those tools would have been a major headache maybe even a showstopper.
All in all I'm happy I went even if most of the time I was standing around chatting and providing moral support. It was nice when I was able to provide them a couple of small yet important tools to make their life easier repairing their car. That made me feel not as bad for my lingering presence."