This past weekend we received close to a dozen recovery requests. Some were easy to address by just helping over the phone with some tips. Others were a bit more involved.
One, in particular, left us almost stranded. Sunday, we received a text message on our emergency number. The person requesting help was stranded near the Wy'east, the legendary Mountain point.
Adam was nearby with RJ, so they jump on it immediately. Upon arrival, Adam called to let me know they found five vehicles stranded in the same location.
What started as a simple recovery turned into a bigger, much-complicated event. Adam and RJ worked one by one on helping all the vehicles stranded for about 3 hours. Then, out of the blue, Adam's battery decided to die. Pretty lousy timing… especially while depending on your winch. RJ also has his winch line broken.
It was about 6:30 pm Sunday when he called to ask me to get a new battery and take it up to him. I ran to Autozone (BTW, Autozone graciously is giving Offroad Portal a 10% discount on purchases), got a battery before they close, and drove 60 miles to meet with Adam.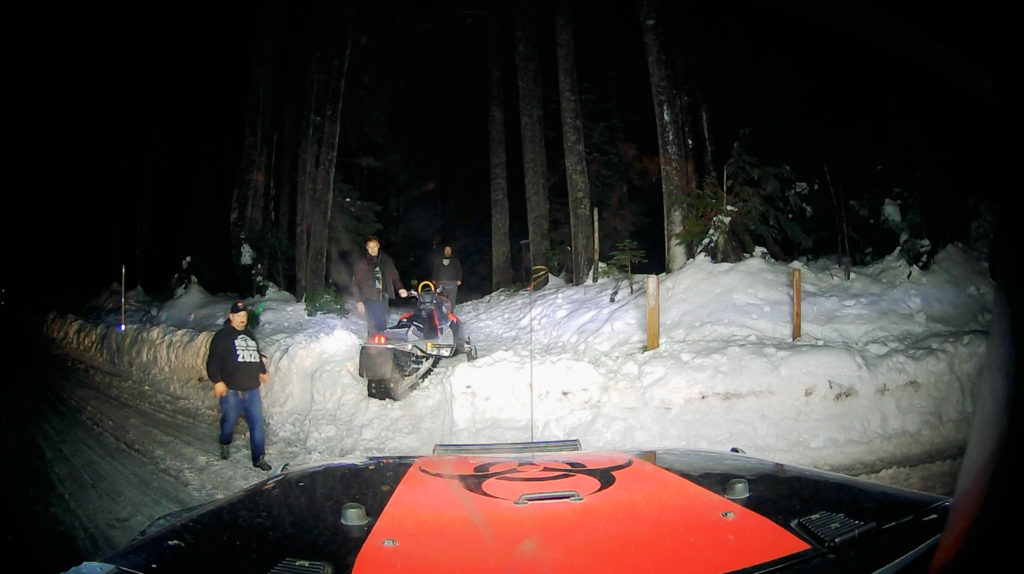 By the time I arrived, only one vehicle was still waiting for help. We installed Adam's new battery and after that started working on this last vehicle, which happened to be the original recovery requested by text message.
Worth noting, Early before Adam arrived, this person reported by text message that he was experiencing seizures, to which I immediately responded, telling this person to call 911. We are not an emergency medical responder. After that, I didn't receive any other text messages. A few minutes later, Adam arrived and told me the person was ok and already in the parking lot of Barlow road.
This person originally required help because he entered this icy road driving a 2×4 truck. He unloaded an extremely heavy snow vehicle, and the vehicle failed to run so that he couldn't load the vehicle back up again on the truck. We ended up winching the vehicle into a hill and pushing it inside the bed of the truck. I guess the lack of planning was a big factor in this person's issue. He decided to go by himself, with a medical condition, driving a 2×4 truck into an icy road with regular tires to try a snowmobile vehicle he hasn't use for a while and in poor condition.
I guess the lesson here is to think before embarking on any adventure. The result of some of these bad decisions could cost somebody's life. But pretty often now, we see more and more unprepared people desperate to get away from the city ending up in trouble.
Stay safe out there!