Monday, November 14th, at 10:32 PM (MST) we received a request in our web-app from Colorado submitted by Scott Porteus, a hunter that had a damaged truck and was stuck in some pretty deep snow.
He was located in a pretty isolated area. His truck had the 4×4 broken. We first checked his contact info and location. Then we proceed to figure out if he need help immediately or if he could spend the night to organize a recovery with daylight. He told us he had his camp nearby and would be ok spending the night there.
With all that information, we started looking for volunteers. We had to tap into people 75 to 100 miles away in order to find help.
We submitted the ticket 10 minutes after receiving it to our volunteers. By 10:57 PM (MST) we received this message in our lobby from a volunteer: "Curt, Boyll / 10:57 PM / So he is about 40 minutes north of Walden going out on highway 127. That is nearly 4 hours from me. I can make it there tomorrow morning and I've got a full set of tire chains, kinetic ropes, & winch etc. I will make all preparations tonight to leave early in the morning. If he can camp and be safe overnight, we will get him out around lunchtime. I'll call him in the morning if there is no need to call tonight".
With that good news, I contacted Scott, and let him know there was a plan for the following morning.
At 6 AM (MST), Curt send us a message, he was on his way, so I pass that to Scott who was waiting to hear some news.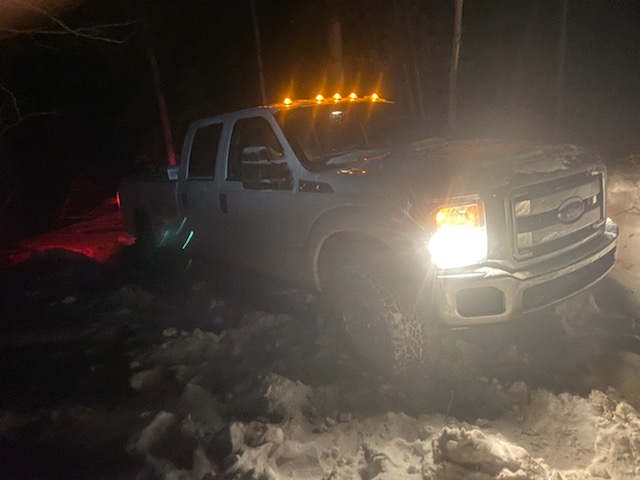 Three hours later, we reached to Curt, he was still a few minutes away, he already had contacted Scott, so everything was progressing as planned. By 2:27 PM (MST) he sent us an update, he got Scott turned around using his winch, and now he needed to pull him out 5 miles to the highway. Two hours later he sent the final message, they were both out and heading home.
Curt was a trooper, he drove about 8 hours to get Scott out. Scott was more than appreciative about the recovery and asked us to thank Curt for his amazing efforts. This was an amazing recovery effort! Thanks Curt!. Selfless people like you made all of this possible!.