Wednesday, January, 11th at 2:13 PM (MST) an offroad recovery request was received from Montana. Henry Eurick submitted the following: "I'm at the corner of South Dry Creek Road and Norton Creek 4.2 MI off Highway 308 just outside of Red Lodge the road conditions are clear with some drifts I'm currently stuck in the only big drift I saw.
The truck runs I have fuel I have food 4×4 works I got 28 ft of recovery strap with me and I'm roughly 20 yards from relatively clear ground I'll be with the truck until it's out been digging for about 3 and 1/2 hours made it 40 ft it's melting and becoming slush. I'll be continuing to dig but I'm definitely slowing down as I'm getting wet.
The photo the photo doesn't really show that the snow is only 2 in deep 20 ft in front of me / I'm with the vehicle"
This is a pretty remote area, and after verifying the contact information and location, we started looking for volunteers. We only had half a dozen volunteers when searching up to 50 miles radius of the requester's location. We also invited volunteers from our recovery partner's page: Montana 4×4 Rescue, and also contacted our friends from Montana Overland & 4×4 Adventures, who in the past helped us with other recoveries.
The request was passed to volunteers by 2:48 PM. 6 minutes later, one of the volunteers invited, Ryan Gorsuch jumped into action, contacted Henry, and 30 minutes later was headed toward him.
Ryan was about 90 minutes out. We kept in contact with Henry until Ryan arrived.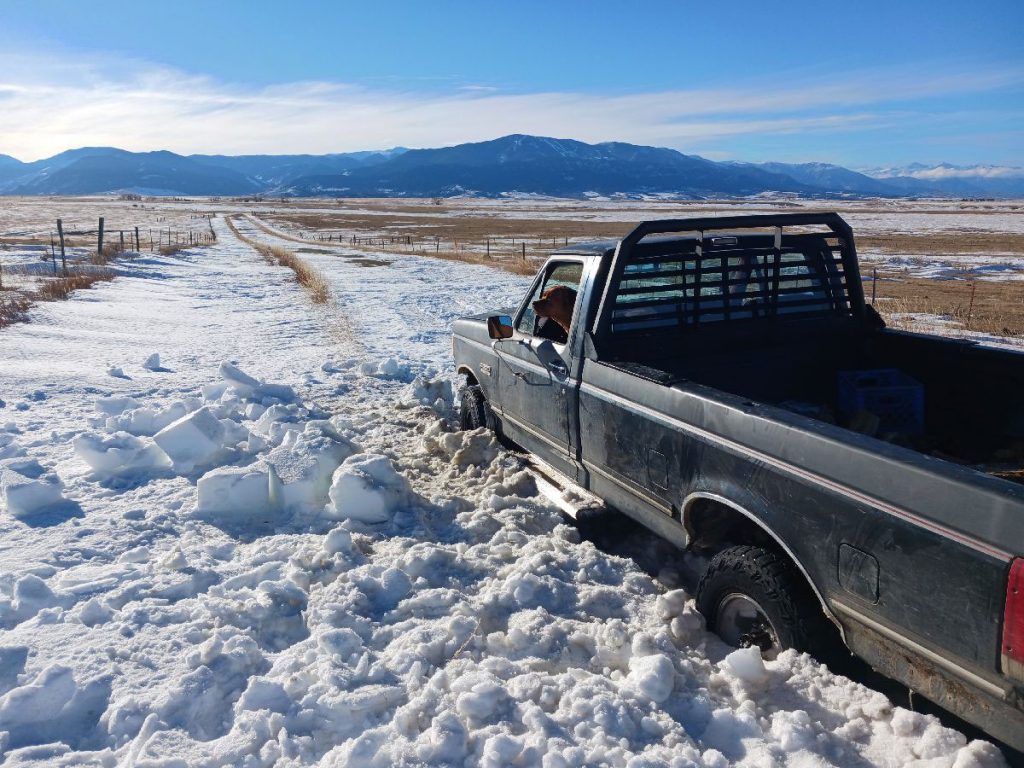 Here is a quick note shared by Ryan about this offroad recovery request: "I'm just happy I could finally help out a fellow offroader. I wish I had taken some pictures. By the time I started down the road to reach him it was already so dark that no pictures would have done it justice. We multiple snow drifts 2 plus feet deep and 100 yards long or longer. Luckily my 4runner is light enough I was able to wench off T posts in the fence along the road. I definitely need a stronger battery and a bigger alternator. Also maybe an electric fan for my external trans cooler. Had to let the trans cool down a few time because temps got up around 220. Henry and I both realized the benefits of a kinetic rope after having to hit tow straps to pull him out a few times. My 4runner just didn't have enough lead in its ass to wench Henry's diesel pickup out. I was definitely an adventure getting to Henry and then getting him and myself out."
What Ryan left out is this whole recovery took him 6 hours. So we appreciate his dedication to helping others. That was awesome, Ryan!