Friday, June 16th, 2023, at 1:10 PM (PDT), a request for help with an offroad recovery was received from the southeast part of Oregon, a very remote area with scarce volunteers due to the density of the population.
The requester, Anthony Snouffer, submitted the following information: "Vehicle: 2009 Saturn vue xe. Onwer is in Hines at the hotel my vehicle is up on the skiens on a ranch access "road" I have better ways to share the location once contacted we tried to take a dodge diesel 4×4 up there yesterday to get it and just can't reach the vehicle in it. I don't have 1300 to pay for a tow which is what I was quoted . Please help / I'm with the vehicle"
We submitted the request on Friday to local volunteers, but nobody was available. We hoped to find help on Saturday. To make things even more complicated, at 3:00 AM on Thursday, Search and Rescue took Anthony to a town 90 miles from where the vehicle was left at night.
So, to summarize, the requester needed a ride back to where the vehicle was. He was about 1.5 hours away. The vehicle was in bad shape, but nobody knew the real condition of it. And to make things worse, we had very few volunteers in the area.
We reactivated the request on Saturday, inviting more volunteers even further away. At around 1:00 PM, we had Mike Haviland, willing to help. He was 3+ hours away, over in Idaho. But in order to get Anthony, he needed to drive first to Hines, OR, and from there to where the vehicle was. So the total trip was about 4 hours and 45 minutes. We also had Bill Cozad working on this recovery. He was 190 miles from where the vehicle was.
These two volunteers are superheroes. They went above and beyond to get Anthony out of trouble. I can't say enough about them. An amazing example of voluntarism.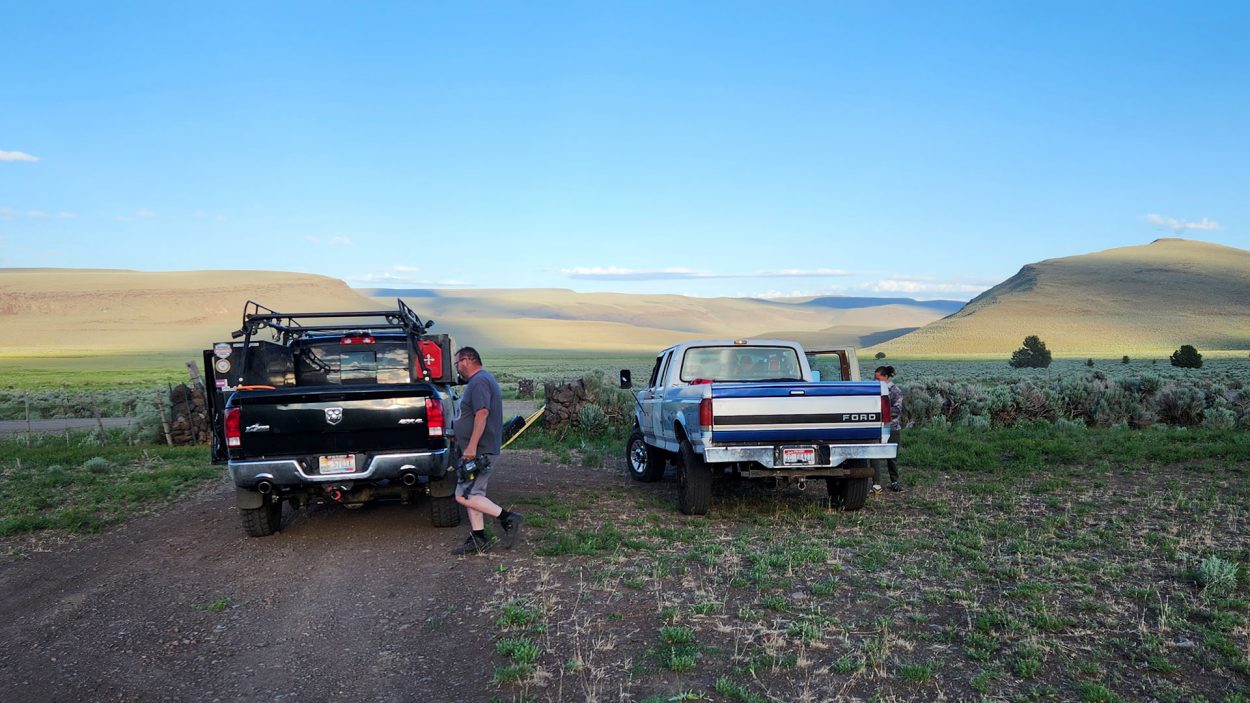 The recovery story by Mike
So, we went up the hill Saturday night around 8 pm.
And found the first mud hole that the sheriff got stopped by. We diverted the runoff causing the road to be washed out of the side of the mountain, then went and found a campsite that night.
The next day, we went and met the client, Tony, at the motel and took him with us up the mountain. The spot we diverted water from was mostly dry, and we stacked rocks in the remaining mud hole, which allowed us to pass with no issue, and later allowed Bill to cruise right past it.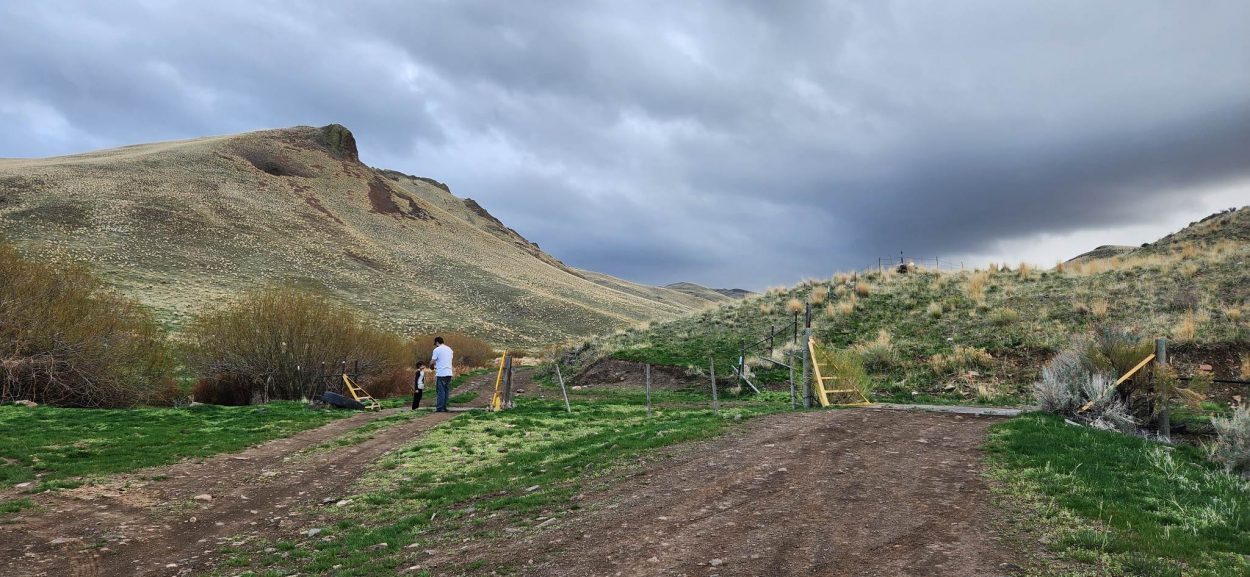 We found one more small mud hole on the way up, but we were able to free my truck easily and continue on. This let us warm Bill of the mud so he could keep from getting stuck as well.
Once we got to the car, we realized that even a 100 foot winch line is too short. I backed my truck as far as I could, and knowing Bill was on his way, backed further down, eventually finding the spring under what appeared dry and getting my truck stuck.
Bill was able to pull my truck free pretty easily, and we shuffled his truck into position. We used just about all the straps we had and one kinetic rope to pull the car out of the very long mud hole, which de beaded one good tire. Once we were able to get the tires off, we noticed one tire was shredded, and the other debeaded tire was okay besides being full of mud. Each time we tried to jack the car up, the jacks would sink, adding complexity. We found some wood near a cabin, and put it under the jacks, then put the spare on the back, cleaned up the one good tire and reseated the tire, turned the car around and headed down the hill, with my wife Miranda driving, since the customer didn't want to drive this road ever again.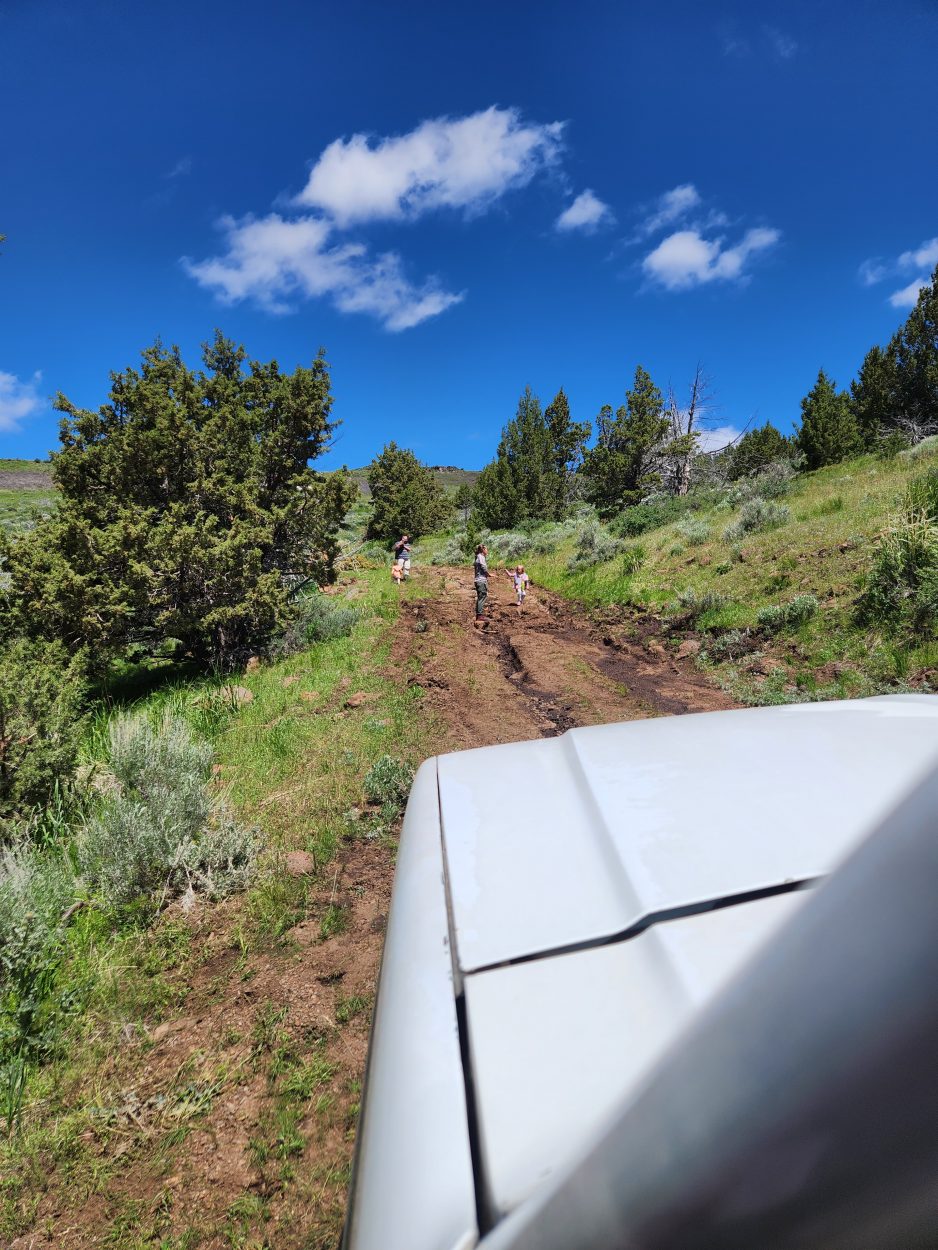 This is when I learned that both the car and Bill were mostly out of fuel. I had over a half tank remaining. Tony and his car got about half way to Hines, which is 90 miles one way thru the hills. Bill got about 10 miles past that. I cruised past them, got 7 gallons of gas, and brought it back and let Bill and Tony figure out who needs how much. Bill had to stop once more and fill one front tire on Tony's car, and he was able to get back to his hotel room.
We got home around 2am, I think Bill got home around 4am, or at least that's when he text me.
---
We are always looking for more volunteers. If you like to receive a text message when we get a request near you, create your account here: offroadportal.org/signup