Tuesday, 21st, at 7:14AM we received a request for a recovery of a 4Runner stuck in some trail near Indian Valley Reservoir. The requester, Amos Jiang, had only one picture that didn't show much of the actual situation. But the rest of the information he provided sort of painted a picture for us of the severity of the scene at hand.
His ticket said: "As you can see on the GPS location, I got stuck at a trail near Bartlett Springs Road. It was quite a narrow trail in which my 5th generation 4Runner just fit. The trail also requires high clearance, and I got in there on 4Lo setting. The National Conservation Service couldn't get in there with her heavy Chevy Silverado. The site where my vehicle was abandoned was a narrow path with plants on both sides that leads to a sharp uphill right turn. With the right turn there is a dip and then an undercut. My car got stuck head-down there on the undercut with one wheel spinning in the air and the other three weren't able to gain enough tractions to back out. I don't have a good photo of it. Here is one that I took before I got airlifted out by a chopper. / I'm not with the vehicle"
We immediately contacted him back and started to corroborate his contact information and location provided. By 9:16AM, we got the request submitted to local volunteers, and also shared on California 4×4 Rescue and NorCal 4×4 Rescue™. From the second group we found Ryan Hackett, who was in Pope Valley, around 60 miles south of Amos.
Ryan, contacted Amos, and coordinated with other members of his local Mendocino 4×4 club to perform the recovery the following day (Wednesday).
On the recovery also participated Kevin Pool. And from the note Ryan shared "high centered, 1 front tire and 1 rear tire off the ground, front bumper up against the hill. Couldn't get around him and no where to hook up a snatch block to winch. That hole we're in was at least 4 feet deep." and the photos he shared we deduced this recovery was a bit more complicated than anticipated. By 10:23pm, on Wednesday Ryan jumped on the lobby of our web app and closed the recovery.
Ryan's note after the recovery: "So I ended up driving out to Williams to pick up Amos first. I left my house at 3:30 to pick him up by 5 and then get back to the trail head to meet the others at 6. Got to the truck by 6:45 and it took about an hour and a half to get him out. Didn't get home until 10:00. Lots of digging and stacking rocks. He had also driven over a decent sized bush that was hanging him up and we had to chainsaw it out from underneath lol. It was a mess. Had to use the highlift to lift up the front so we could stack rocks to support the traction boards. Then Jack up the rear to get more boards under the tires. We were moving it inches at a time. Perfect Wednesday night!"
Thank you Ryan and Kevin for helping on this recovery, they worked a lot on this recovery! You guys are awesome.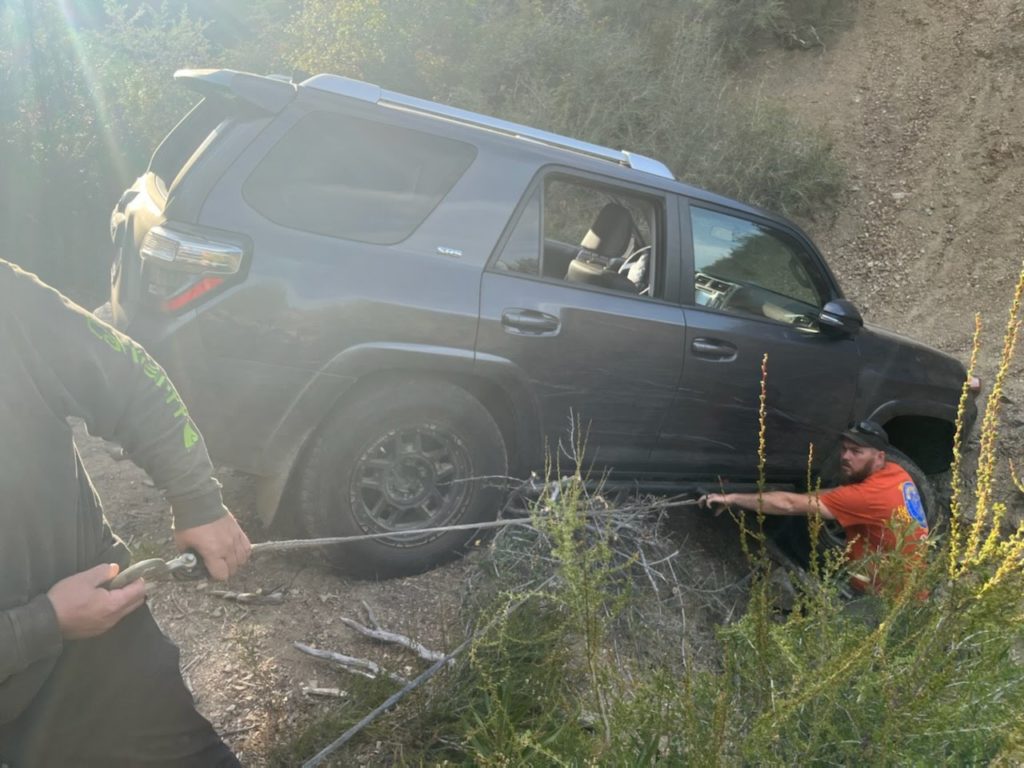 Final note: Amos was very grateful with everybody, the following day shared a bunch of photos of the recovery and this note: "Hello Al! We got my rig out yesterday. We arrived at the site at 7pm and got it out at 8pm. The whole group of volunteers are extremely nice and helpful people, and I am extremely grateful for them! Thanks again for organizing the volunteers for me!!"