A request for help with an offroad recovery came from Idaho on June 12th, 2023, at 12:30 PM (MDT). The requester, Robert Fomenko, submitted the following information: "40 ft motor coach stuck in the mud a 1/8 mi off of a paved road. Front wheels are in holes and the back wheels are not getting any traction. I've trenched the water away but it's been raining almost every day for a hour or two making things very wet. Only way out is straight back to a slope that is dryer. I've been stuck for about 5 days trying to get myself out. / I'm with the vehicle"
In this area, we have very few volunteers, so if you live near and want to help us grow the numbers use this link: offroadportal.org/signup
We verified the contact information and location and requested a few pictures. Once we gathered all we needed, we submitted the ticket to local volunteers, and we also shared it with our recovery partners Idaho 4×4 Rescue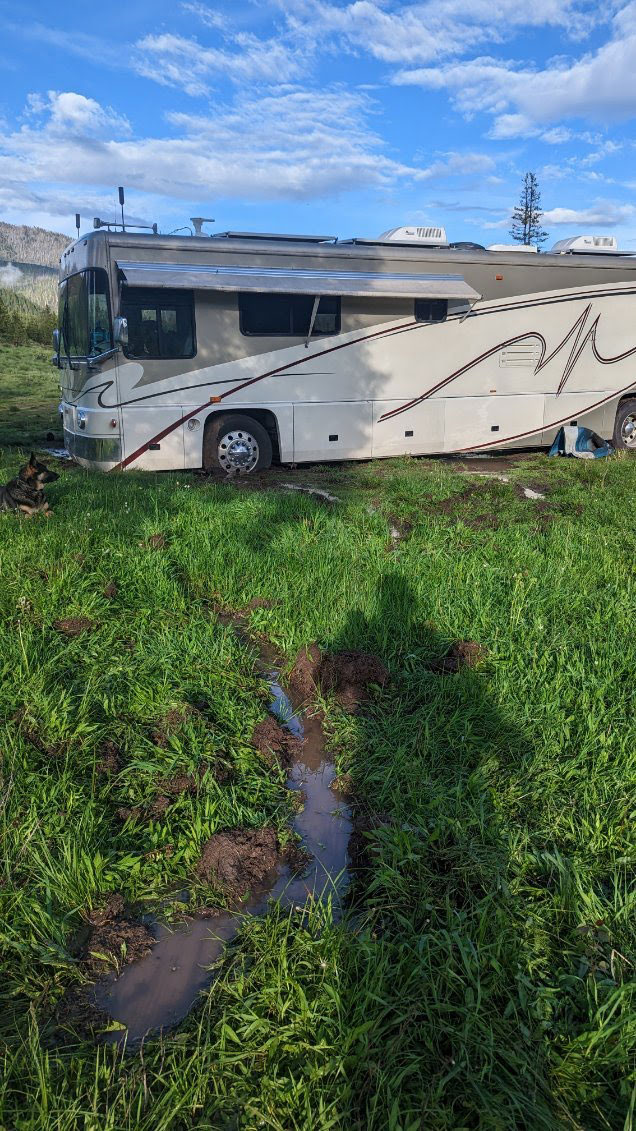 This was a pretty heavy vehicle, 15,000+ pounds. So that made it a bit more complicated to find help.
There was an event happening on Warm Lake on Thursday where a bunch of jeeps were going to be very close to helping, so Aaron Lain, one of our volunteers, made contact with this group to try to see if they could be of help. We also had Paul Haskew, who also got in contact with the requester.
The following day on Tuesday, one of our local volunteers, Paul Haskew, showed up and pulled the RV out of the mud. We sure appreciate the help. Robert was thrilled and thankful for all the help everybody offered.
---
If you like to receive a text message when we get a request near you, create your account here.