Sunday, 8th of May, at 11:03 pm (PST), we received a recovery request from Mt. Hood, where Vitaliy Prozapas got high center on NF2660 a few hundred yards from Hwy 26. We work on checking his location and contact information before submitting to volunteers. By midnight we passed it to a group of volunteers but nobody was available.
We chatted with Vitaliy and after verifying he was safe and warm to spend the night up there we decided to wait until the morning to attempt to go up there.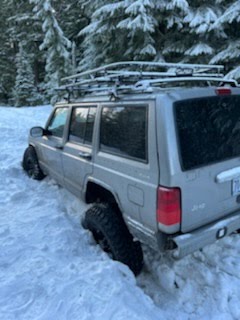 The plan was to be there around 9:30am on Monday. But by 9:00am, Vitality contacted us to let us know a good samaritan, a passerby was able to help him. Although he was not one of our registered volunteers, we asked for his information so we can thank him. His name is Vadim and he was a driving a gray Tacoma.
He surely saved the day. Thank you! Sometimes a recovery takes a village to be done, sometimes just a good samaritan!