Wednesday, May 3rd, 2023, at 9:08 a.m. (MST), we received a request for an offroad rescue of two trucks stranded in the snow in Montana. The request submitted by Collin Carpenter read: "2 trucks stuck 1/2 mile from national forest access on the little bear road just past gallatin gateway just need a little pull and will be able to make it back down 2nd truck got stuck going to recover 1st truck 3 people and a dog 1 person with type 1 diabetes and there is no food or drinks / I'm with the vehicle".
We verified the contact information, chatted a bit with the requester, and gathered some photos and the exact GPS location of the vehicles. They spent the night in the vehicles and needed help quickly. The request was sent to volunteers a few minutes after 9:30 a.m., and no more than 4 minutes later we had Andreas Ponti, a local volunteer already on his way.

Andreas sent us this note later:
"As far as the recovery goes, it was pretty straight forward and only required about 20 minutes once I arrived on location to get both trucks onto solid ground. When I arrived I had learned that the three occupants between both trucks had spent the night up there with no food or water and had a 14 month old dog with them.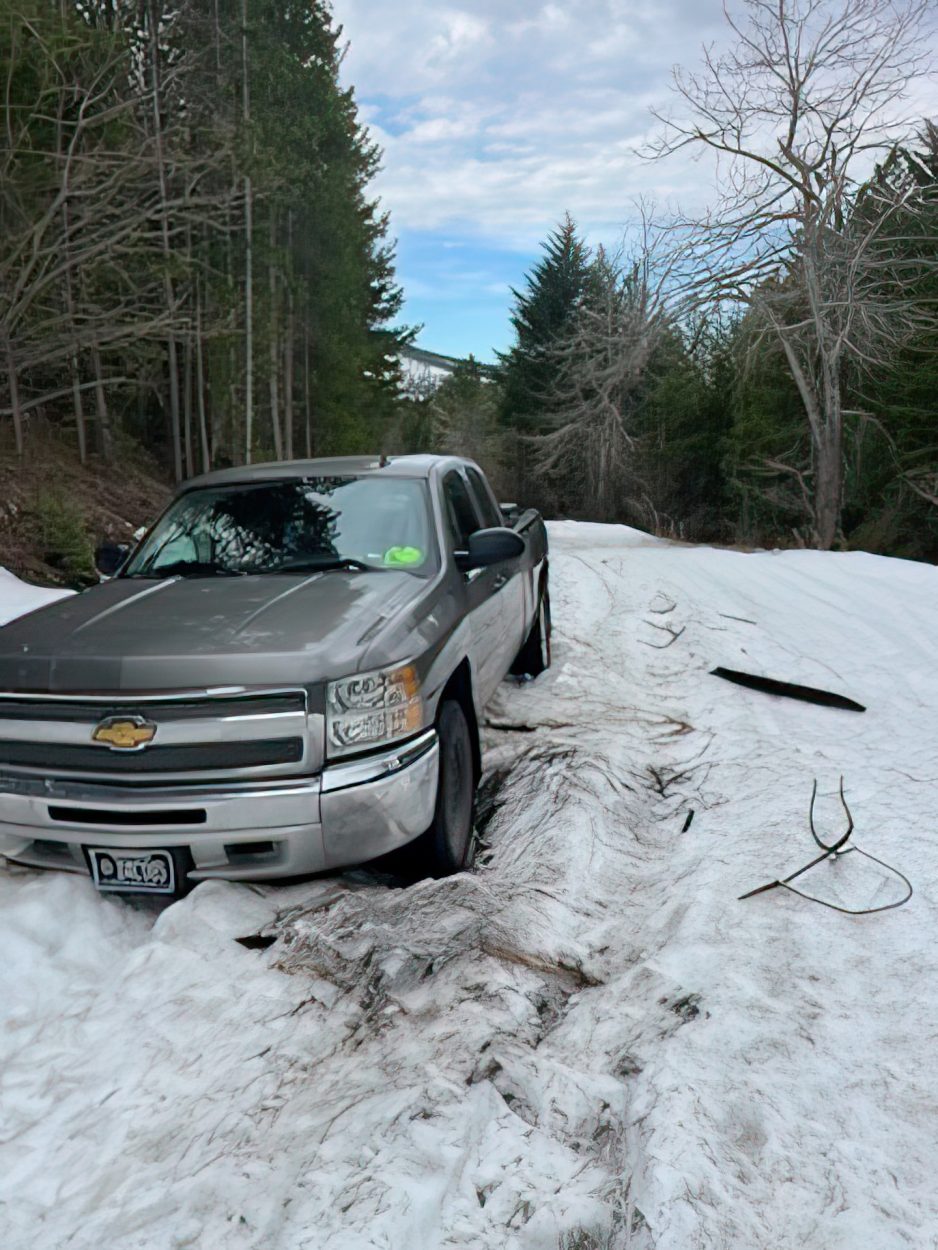 Equipment Used:
30′ ARB Kinetic Recovery Strap
2x 3/4″ Crosby Shackles
Hitch Pin
6′ 2″ Soft Strap with a double eye configuration
The first truck (newer Chevy 1500) was facing uphill and had slid off towards the ditch side of the road and was buried to the frame in hard snow. No forward or backward motion without assistance. It had good factory recovery points available and a hitch pin, kinetic recovery strap, and shackle were used to connect the vehicles. A couple dynamic pulls and the truck was free and able to back down to solid ground where I could get around it to reach the second vehicle.
The second truck (older Chevy 1500) was facing downhill and had slid sideways in the road with the front end facing the ditch side and the back end facing the steeper drop off. No forward or backward motion without assistance but any additional movement forward without course correction would have put the truck in a more difficult predicament. This truck did not have any solid recovery points on the front or back. A 6′ soft strap was used to create a recovery point by utilizing axle or frame members. The kinetic strap was used to pull the truck straight onto the roadway. At that point in time I was able to drive past the stuck vehicle and re-attach the recovery gear to pull the truck backwards, up the hill, to a solid spot on the road with minimal snow. Several dynamic pulls were required to get the vehicle moving. Once both the stuck and recovery vehicle were on stable ground, all recovery gear was detached and recovery vehicle was turned around and led the exit down the mountain to good stable road conditions in canse the second or third truck needed additional assistance.
Timeline: Wednesday May 3 all times MST
9:27: received text message with recovery request
9:29: contacted stranded personnel via cell phone and obtained additional details. Occupants were with vehicles and had cell service.
9:34: departed for stranded vehicles
9:52: arrive on scene, assess the situation and begin recovery.
10:17: both vehicles on solid ground and able to travel home without further issues
10:21: Close out recovery ticket and inform portal that recovery was complete."
---
Andreas, thank you for helping with this offroad rescue and also for taking the time to document the recovery. Excellent job.