Thursday, May 11, 2023, at 3:24 PM (CDT) we received a request for an offroad recovery in Mississippi, where Gabriela Patino was stuck in mud on a Ford F150 truck near a fishing hole.
The request message read: "I'm on a trail under the highway bridge on an area that locals use to fish. I have been stuck for 3 days. My vehicle is a 2014 Ford F150 4×4. It is stuck in wet mud. The area is a fishing hole, fourwheeler trails, and sand dunes opened to the public. / I'm with the vehicle"
This was considered by locals as a sketchy area, and some were a bit apprensive to do a solo recovery. We also had very few volunteers in the near by area. So we asked volunteers who were farther away in case they knew somebody local. Luckily they referred us to a local group Salient Coast Overland, from this group a volunteer jumped into action and took care of the recovery, Blake Killingsworth.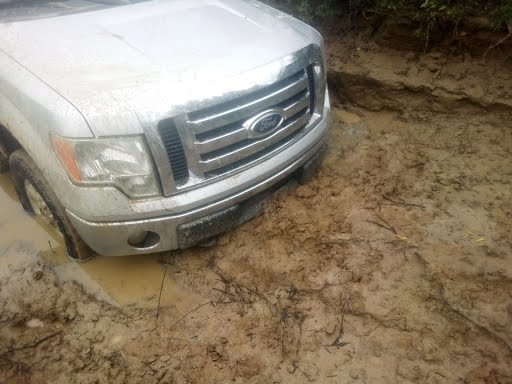 Blake later sent us a quick note about the recovery: "Took 100ft of cable  20ft chain 50ft strap to reach a light pole. Then another 30ft double blocked for 18000lbs of pulling force.  Done with a stock 2015 jeep wrangler sport jk."
We very much appreciate Blake's help and invited him to be a part of Offroad Portal for future recoveries.